Over time, the skin naturally loses its elasticity. It would be nice if it didn't, but the body just starts to slow down its ability to repair cells. Because the body begins to lag in its skin cell repair, certain areas will start to sag. You may have noticed this on yourself around your cheekbones or even the dreaded jowls. When this starts to happen, no face cream is going to correct the issue. It doesn't mean you're out of luck, though.
For years, facelift surgery has been the only answer to address these concerns, removing droopy skin while tightening at the same time. A facelift is one of the most common procedures now at most cosmetic surgeon offices around the country. But now there is another option! It's known as a thread lift, and, unlike a facial lift surgery, this doesn't require you to undergo surgery. If you've been wondering what is a thread lift and whether it is right for you, here is everything you need to know about the new procedure.
What Is A Thread Lift?
It is a non-surgical procedure performed mainly to address laxity or mild sagging of the mid to lower face. Also known as, Hollywood A-lister's best-kept secret for achieving and maintaining their youthful appearance. NovaThreads are FDA-approved, PDO (Polydioxanone) absorbable sutures that lift, tighten, and smooth skin. The threads are actually tiny sutures placed directly under the skin to stimulate your body to build collagen in the areas where it has diminished. As the threads are placed the skin is then lifted and tightened returning it to its original, more youthful, and natural place. The procedure takes about 30 minutes, the results are instant, improve over time, last years, best of all – no scars.
Deeper Benefit
After receiving a thread lift, you will see a significant difference in the problem areas.   Whenever the skin experiences any kind of trauma, the body will naturally go into high gear, sending additional cells to the area in need of repair. This is exactly what happens during a thread lift. Due to the minor trauma experienced by the skin during the suture insertion, the body will focus on repairing the damaged skin by flooding collagen to these areas, deep under the skin new layers are formed.  So not only will you be tightening the exterior appearance of the skin with the thread lift, you will be creating more volume under the skin.
The body will continue to repair the "threaded" area until the threads are naturally dissolved. The results of the thread lift will last long after the threads are gone.
Two Different Thread Lift Methods
There are currently two different thread lift options that the FDA has approved. While the process of the thread lift is more or less the same, there are some important differences between the two that you need to know.
The first form of thread lift is called NovaThreads. The threads used in this procedure are biocompatible and, after about six months or so, the threads will be safely reabsorbed into the body. Essentially the thread dissolves into the skin, so you don't need to have any threads cut or removed. There are a handful of NovaThread versions, depending on what it is you're interested in accomplishing. Some threads are designed for gathering skin and tightening certain areas, while others are better to improve collagen production.
The second form of thread lift is called Silhouette InstaLift. This particular kind of lift is more geared towards lifting and improving loose skin on your face rather than focusing on collagen production. While some collagen production does occur, it is not to the same extent as what you would experience through NovaThread. Because this kind of thread lift is geared towards the lift itself, it is better designed for looser skin or when more skin needs to be gathered and tightened. And while this product does use a biocompatible form of thread, the thread lift will remain in place for up to three years.
The Process
Regardless of the kind of thread lift you opt for, the procedure itself will take approximately 30- 45 minutes. You don't need to be put under anesthesia for this, only a local anesthetic will be used. Once it takes effect, a unique needle designed just for a thread lift will be used to insert the thread through the skin.
After the procedure, you can go about your day. You might experience some discomfort and slight pain from the source, but ultimately this won't linger for long, and you're able to take over-the-counter pain medication if you do feel uncomfortable.
One reason why a thread lift is growing in popularity, other than the fact that it does not require surgery, is that it is easily paired with other non-surgical procedures. This way, if you're looking to correct several trouble spots all at the same time, you absolutely can do just that. All you need to do is ask the team at The Skin Center By CPS for details on combining services.
Thread Lift Patient Results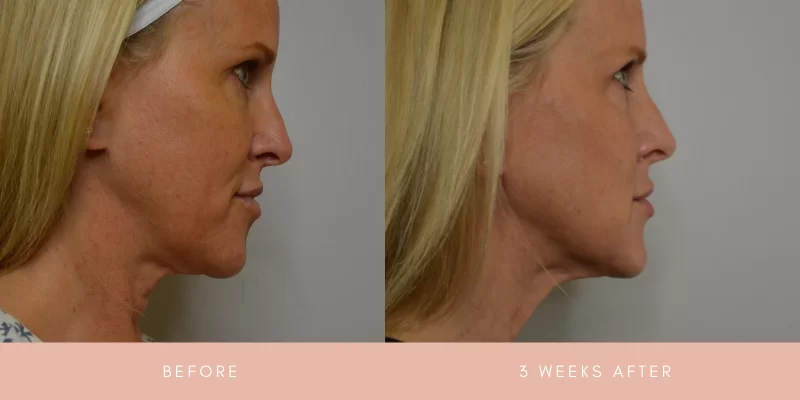 Schedule Your Consultation Today
Does a thread lift sound like something you might be interested in? Have you noticed droopy skin around your cheekbones or your chin, developed jowls? If so, a thread lift may be the right procedure for you. It's not as invasive as a facelift, yet it can give you desirable results, especially early on. So, if you want to find out if a thread lift is right for you or if you have additional questions about it, now is the perfect time to give the team here at The Skin Center by CPS a call. Whether it's a thread lift or another service, your skincare desires are just a phone call away.