But is it possible to repair sun-damaged skin and reverse the signs of aging? In many instances, the answer is yes. Here is what you need to know about how to repair sun-damaged skin.
Hydration is Key
First of all, you need to hydrate. This includes both drinking water and applying a facial moisturizer. You might be surprised as to just how much better your skin becomes when it is hydrated. The complexion will improve, wrinkles will look less pronounced, and many of your sunspots will reduce in appearance.
While you're at it, make sure your moisturizer contains at least SPF 30, although ideally, it will be 35 or more. This way, you're always protecting your skin, no matter when you need to pop outside.
Don't Forget to Exfoliate Your Skin
Much like staying hydrated, this isn't going to rid your skin of sunspots and other damage caused by the sun, but it will reduce its appearance. By exfoliating, you'll remove the surface layer of dead skin. This will reduce the visual appearance of wrinkles as well as soften color tones. It also allows for products to penetrate deeper into the skin.
There are several ways you can go about exfoliating your skin. First, you should have a gentle facial scrub, such as a foreo or mild scrub. This will help you maintain a healthy, clean-looking face that will also, over time, reduce the appearance of sun damage.
Beyond exfoliating through a facial wash, you'll want to consider a skin peel. You can use some skin peels at home, although the intensity of the acid used within the skin peel is minimal. It will help rid that top layer of dead skin, but it won't completely remove its surface layer. For this, you'll need to schedule a service at The Skin Center. A professional chemical skin peel will give you better, longer-lasting results.
For use throughout the week, the skin peel will work just fine. You can safely use a home skin peel product once or twice a week, although you should discontinue using it if your skin begins to break out or irritates your skin.
Begin Using Retinol Products
Retinol is a product that is taken naturally from Vitamin A. It's also one of the ingredients you need to look for when it comes to reducing the appearance of wrinkles and when you want to smooth out your skin tone and boost collagen production.
You can find retinol in several intensity percentages. If you haven't been using a retinol product in the past, you'll want to start at the lowest option available. We have heard all kinds of stories from patients about their experience with retinol. They heard about the product and went out and purchased the highest intensity product they could find. This is a recipe for anything from an increase in breakouts all the way to burning the skin.
Instead, you will want to begin using a retinol product with a small percentage of active retinol. After a few weeks (or after you've used up the container), you can increase the retinol percentage. This will help you avoid damaging your skin while also fighting the results of sun damage. It may be best to seek the advice of our skin health experts to discuss the anticipated reactions and how to avoid negative results.
Professional Skin Health Services
By creating and following a daily skincare routine, you should see some improvement in your face over time. This includes improvement caused by environmental damage (just make sure you're also being proactive and defending your skin with the aid of sunscreen, hats, and staying indoors when it's sunny out). While these products are great, you will never fully experience a skin care professional's overall benefits.
Here at The Skin Center, we have access to professional, medical-grade products you cannot purchase from your local beauty store or even online. This includes higher intensity chemical peels that deliver heightened results. We also provide laser therapy to help remove wrinkles and sunspots. Even light treatment can help in some ways, especially if you have some scarring caused by both acne and sun exposure.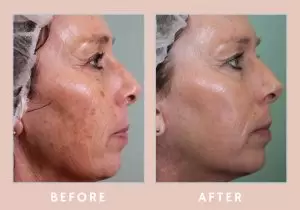 If you want to know how to best treat your sun damage, both at home and through services provided, our team here at The Skin Center can help you every step of the way. We recommend scheduling a Free Visia Skin Analysis.
If you are looking for more information on BroadBand Light Therapy, download our Guide today!
Personalize Your Approach To Repairing Sun Damaged Skin
The best way to approach how to repair sun damaged skin is to personalize it. Your sun damage is different from your neighbors, your family members, and your best friends. You might have discolored skin, patchy skin, sun spots, or other issues going on. Whatever it is, you need to take advantage of a personalized approach. This way, you'll best treat your sun damage based on your own skin.
You'll experience the best possible results by skipping services you don't need and scheduling those most beneficial to your needs. To begin this process, all you need to do is give our team here at The Skin Center, By CPS a call. We'll help schedule a consultation where you'll sit down with skin care professionals who will review your skin health concerns and work with you in developing a customized treatment plan for restoring your skin and turning the clock back on any premature aging you've experienced.