National Botox Day occurs every November 16th. It's an ideal time to get this treatment if you've ever considered it for improving your appearance. Are you ready for Botox?
What Is National Botox Day?
National Botox Day, as declared by the product's manufacturer Allergan, closely corresponds to the pre-holiday surge in Botox treatments seen at cosmetic practices around the county. Additional spikes happen just before the Christmas holidays and at the New Year.
People choose these times to ensure they can put their best face forward at holiday parties and family pictures. At the New Year, people may want to treat themselves to a better appearance as part of their resolution.
The company chose National Botox Day, November 15th, to educate consumers about its product and offer promotions through its rewards program, Alle. Those interested in Botox always consult with a qualified medical practitioner trained in providing this treatment.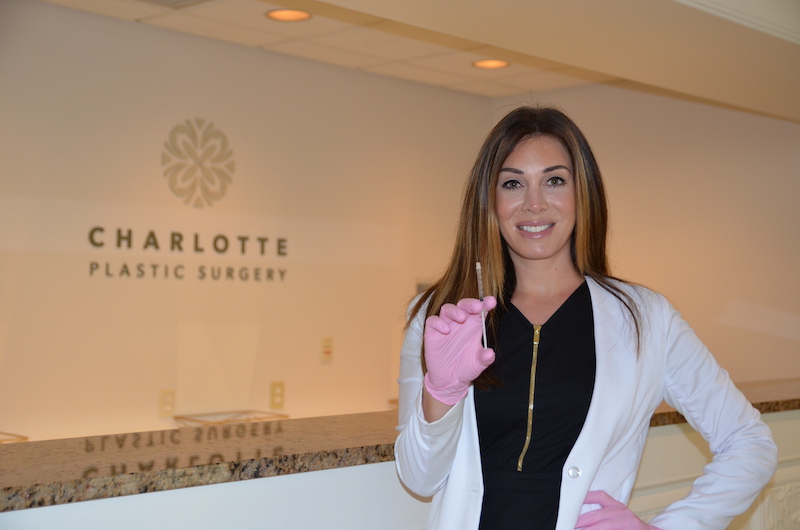 National Botox Day Exclusive Offer!
To celebrate National Botox Day this year, purchase 40 units of Botox® and receive 10 FREE UNITS when you book your Botox® appointment November 15 – 17!  Also, earn double Alle points all month long!
**May not be combined with any other promotions except Alle and EY.
What Is Botox?
While most people have heard about Botox and its cosmetic uses, few know exactly what it is or how it came to improve appearance. Botox Cosmetic is a product used by medical professionals to smooth the appearance of wrinkles and lines on the face, but it comes from an unlikely place.
Botox is short for botulinum toxin A that the bacterium Clostridium botulinum produces. One of the side effects of this toxin is its ability to freeze muscles. When injected by a highly trained physician into the face, the toxin will temporarily relax muscles that create wrinkles or lines. Due to this product's nature, only medical professionals should administer it to reduce the chances of serious side effects. When used correctly, Botox injections provide months of a smooth appearance in the face.
Initially, doctors only used Botox medically to treat people with crossed eyes (strabismus). During testing for this use, researchers noticed that the injections for crossed eyes also had a smoothing of the skin between the eyes at the top of the nose called the glabella. Today, many doctors use Botox to correct these and other wrinkles and lines on the face, depending on the patient's needs.
Who Is a Good Candidate?
Those who make good candidates for Botox treatment include people with lines and wrinkles related to aging. If you want to find out whether Botox injections will work for you, you must first set up a consultation with a physician who has training for administering Botox.
What Does Botox Treat?
Botox has a long history of use for medical and cosmetic conditions. Aesthetically, it can help to treat the following:
Crow's feet
Glabella lines
Lines around the mouth
Chin dimples
Forehead lines
Folds around the nose
One of Botox's most significant benefits is the ability to have multiple sites on your face treated at once or just one location, depending on what you want to achieve.
When Should You Consider Getting Botox?
Ideally, if you have a specific event that you want to look your best for, you should schedule Botox treatment at least a week before. However, most patients will first need a consultation before getting their injections. Therefore, you should plan for both visits when scheduling Botox. That's why National Botox Day falls a week before Thanksgiving. People have their treatments at that time and look great by Thanksgiving Day for family gatherings and photos.
Where Should You Go to Get Botox Injections?
When getting Botox injections, where you go, does make a difference. First, the placement of the injections makes a difference in the outcome. In the practiced hands of a physician or Master Nurse Injector, trained in anatomy and Botox administration, you will have a better chance of getting the desired results.
However, too many spas don't have trained experts. Going to one of these places increases your risk of incurring poor results or serious side effects.
At The Skin Center by Charlotte Plastic Surgery, we have a team of physicians and Master Nurse Injectors who have expertise in Botox administration and plastic surgery. Find out more about our professionals and our Botox knowledge on our website.
Does the Procedure Hurt?
Some patients feel concerned about the procedure hurting. However, the procedure typically does not cause significant amounts of pain. Typically, preparation only requires that you stop taking any anticoagulant medications, such as aspirin, for two weeks before the procedure. You will not need care after and can even return to work immediately after. In fact, the doctor will tell you not to touch or rub the treated areas of your face for at least 12 hours after the injections to ensure the best results.
How Long Do Results Last?
Botox treatment will last for up to six months or longer. If you choose to get this treatment near National Botox Day, your results should last through the winter into March or April.
Over time, your muscles will return to their original tension, making the lines or wrinkles reappear on your face. If you schedule regular treatments with Botox, though, your muscles will eventually learn to stay relaxed longer. Therefore, to maintain your fresh appearance through Botox, you should have regular appointments two to three times a year with a medical professional.
Schedule a Consultation Today!
If National Botox Day has you thinking about getting this treatment, schedule a consultation with our medical professionals at The Skin Center by Charlotte Plastic Surgery. The doctor or Master Nurse Injector will evaluate you to determine if Botox will give you the results you want.
Take time before the holiday season to look your best with Botox. Best results will appear within a week and can last for months, letting you put your best face forward into the holidays and the New Year.