The different types of hyperpigmentation vary from person to person, but in this article, I will cover a few of the most common types of hyperpigmentation I have seen and treated throughout my career. The most common types of hyperpigmentation are as follows: melasma, age spots, and post-inflammatory hyperpigmentation. If you think you are suffering from one of these types of hyperpigmentation then I have put together this article with you in mind. Below are the different types of hyperpigmentation and the best solutions for treating or reversing them that money can buy today.
The First Type of Hyperpigmentation is Age Spots
Hyperpigmentation is the medical term for patches of darker skin surrounded by normal skin tone. Most people refer to hyperpigmentation as either age spots, liver spots, sun damage, or melasma. What is actually happening is our skin is producing more melanin or pigmentation. Our skin produces more melanin as a response to the sun or injury to the skin. Resulting in either a tan, sun spots, or hyperpigmentation.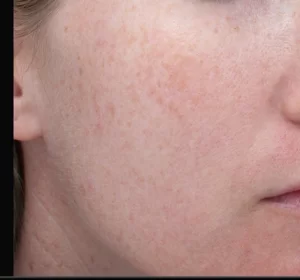 Example of patient with smaller, patchy age spots on cheeks
Age spots or sun spots can begin to appear on the face or body as early as 30 years of age. Wearing an SPF, avoiding overexposure to the sun at an early age as well as using topical antioxidants can help prevent this from occurring. In-office treatments such as exfoliating the skin with chemical peels or Dermalinfusion will help remove top layers of the skin revealing healthier clearer skin.
Example of patient with large age spots across cheeks
BroadBand Light Therapy is also a recommended procedure for minimizing pigmentation. BBL targets brown and red spots to minimize and even skins complexion. An at-home skin care regimen using medical grade products will also help to prevent and reduce the appearance of age spots. We recommend a consistent daily regimen of TNS Essential Serum, Retinol, and Total Defense and Repair SPF 34.
The Second Type of Hyperpigmentation is Post-Inflammatory Hyperpigmentation
Post-Inflammatory Hyperpigmentation or PIH is another form of hyperpigmentation. PIH is a result of injury to the skin. Typically, darker skin is more prone to PIH than lighter more sun-sensitive skin. Injury to the skin causes a surplus of melanin or pigmentation to form to heal the wound and protect the skin. When this occurs we recommend starting with a skin lightener like SkinMedica's Lytera and retinol. This will help stop the overproduction of pigmentation, begin sloughing away the layers of discoloration, and also brighten the skin. Next, a series of 2-3 chemical peels will help to even the skin complexion and reduce hyperpigmentation. Chemical peels are also beneficial to help reduce pores and fine lines.
Curling Iron burn
The Third Type of Hyperpigmentation is Melasma
Melasma is a form of hyperpigmentation that results from hormonal changes in our body more commonly seen in women than men. This type of pigmentation is worsened with intense ultraviolet rays or intense heat. Melasma usually produces a pattern on the face often on the forehead, cheeks and upper lip.
Example of patient with melasma hyperpigmentation on cheek and forehead
The first step for minimizing melasma is wearing an SPF with IR protection. SkinMedica's Total Defense and Repair SPF 34 or 50 offers protection from UVA, UVB, and IR. This product is unique in it also offers anti-aging peptides. Next, using a skin lightener to inhibit the production of melanin and retinol. We recommend the combination of SkinMedica's Lytera and Retinol Complex. In-office we offer SkinCeuticals Advance Corrective peel which has been shown to greatly minimize the appearance of melasma. We also recommend HALO, Scitons hybrid laser. A series of 3 peels or 1-2 laser treatments will greatly reduce the appearance of hyperpigmentation as well as rejuvenate the skin reversing signs of aging.
Example of patient with melasma hyperpigmentation on the upper lip
It is important to remember while treating any type of hyperpigmentation the use of recommended products at home along with staying out of the sun is important for the success of the treatments.