For patients looking for a simple yet highly effective skin care treatment to fight the signs of aging with minimal to no downtime, DiamondGlow® (Dermalinfusion facial in Charlotte, NC) is a great option.
WHAT IS DERMALINFUSION (NOW CALLED DIAMONDGLOW®)?
DiamondGlow® (formerly Dermalinfusion®) is a one-of-a-kind face and body treatment that not only feels amazing, but leaves your skin deeply clean, hydrated and glowing – even after just one treatment.  This device is known for its patented 3-in-1 system that gently exfoliates away rough, dry skin with a sturdy diamond tip, suctions oil and dirt from inside your pores with a closed loop vacuum system, and deeply infuses condition-specific serums directly into the skin – all simultaneously.
Included with each of treatment is a complimentary skin health consultation where a customized program is designed specifically for your needs and concerns. Our skin care specialists will work with you to ensure a treatment that addresses your particular needs and goals.
A HIGHLY CUSTOMIZED APPROACH
Your provider will customize your treatment first by selecting a specific exfoliation tip that is right for your skin.  DiamondGlow® (formerly Dermalinfusion) allows for multiple levels of exfoliation with diamond tips of various coarseness and size to treat any part of the face or body. The closed-loop vacuum system is also highly customizable, with varying levels of suction from very deep for the most stubborn clogged pores, to gentle for the delicate skin around the eyes and lips.
Similarly, the hydrating serums are also condition-specific, allowing your provider to infuse your skin with a serum that's right for you – tackle issues like dullness, acne, dryness or even melasma & pigmentation.  The serums are simultaneously infused into the skin while it's being exfoliated, allowing for maximum penetration and maximum results. They're not just hydrating, they're highly effective, staying on your skin for 72 hours and penetrating deep into the stem cell layer of your skin.
IS DIAMONDGLOW® RIGHT FOR ME
DiamondGlow®(previously called Dermalinfusion treatments) is a great option for preventing the signs of aging: you can safely address issues like skin wrinkles, texture issues, thin or crepey skin, and even skin lustre: DiamondGlow® literally leaves your skin with a glow that you can't get with other facial treatments.
One of the best things about DiamondGlow® (formerly Dermalinfusion) is that you can safely treat delicate skin, such as the eyelids, under-eyes, and lips.  Skin in these areas is prone to wrinkles and volume loss, with little-to-no treatments available on the market today that can effectively and safely treat it.  DiamondGlow® is safe even for older skin and is a great benefit for our injection patients – for example, DiamondGlow® plumps the lips as a refresher between your lip injection sessions!
WHAT TO EXPECT FROM YOUR TREATMENT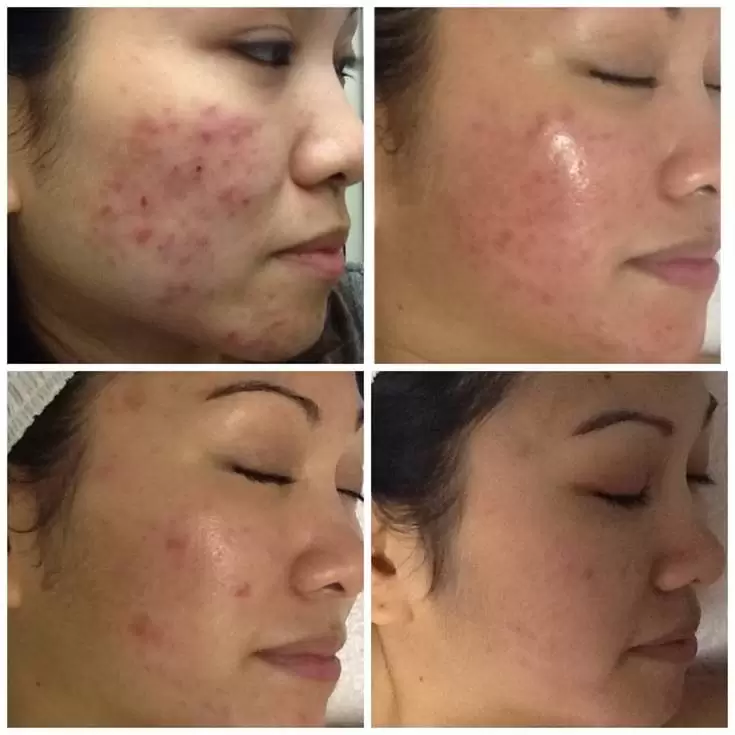 DiamondGlow® before and after photos following multiple sessions to treat acne
DiamondGlow®(formerly Dermalinfusion) is also a great add-on to other procedures such as laser treatments, Profound RF, and chemical peels – it can help prepare the skin so that your results are maximized and you see the best outcome  possible from your treatments.
DiamondGlow®(formerly Dermalinfusion) can also be used post-procedure to aide in lymphatic drainage.  Similar to techniques like dry-brushing, DiamondGlow® gently and effectively helps eliminate toxins from the body.
DiamondGlow®(formerly Dermalinfusion) feels extremely comfortable and cleansing, leaving your skin gently plumped, hydrated, smooth and glowing from the inside out.
WHAT IS THE EXPECTED DOWNTIME FOR DIAMONDGLOW®?
While treatments are recommended 1-2 weeks apart, you can safely treat your skin prior to a big event with no worries of extended downtime: skin is mildly pink to red for about 1-2 hours after treatment and that's it.
Watch a DiamondGlow® facial (formerly Dermalinfusion facial) session to get a behind-the-scenes look!